We appreciate it when our guests share their stories with us and allow us to post them on our blog. Recently, Ted McGrath who lives in Vancouver, Canada, returned from our California Native adventure in Copper Canyon and wrote:
California Native sent Rob Aikins from San Diego as our guide, Rob was excellent. Great personality, loaded with local knowledge, an awesome wit and ability to deal calmly and politely with any off the wall situations. Rob spoke perfect Spanish and at every stop knew just about everyone we met. He worked diligently to make our trip a seamless time where all we had to do was enjoy the experience while he attended to the detail of herding cats. He left nothing to chance!
El Fuerte
Hotel Torres del Fuerte has big rooms, high ceilings, air conditioning, bottled water, wi-fi in the hotel lobby area. Each of the 25 rooms decorated uniquely. Nice large inner courtyard. Lets call the place "charming".
El Fuerte to Divisadero
The train ride from El Fuerte to Divisdearo was as awesome a train ride as one can find. The ride through the canyon has to be seen to be appreciated. 86 tunnels, 36 bridges with interesting rock formations. The train was great. Air conditioned, good seating and the meal at lunch very tasty.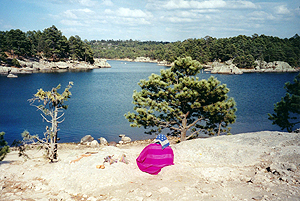 The Hotel Mirador at Divisadero sits right on the edge of Urique Canyon and the view is stunning. We took a gondola ride across the canyon where three of the main Copper Canyon complex of canyons join – cool!
Divisadero to Creel
From Divisadero, the train on to Creel is not as scenic. The hotel (Best Western Creel) has nice rustic western themed public space. One could think you were on vacation in Montana–western themed rooms too.
Creel to Batopilas
After one night in Creel we departed to Batopilas. Along the way we stopped at a Tarahumara cave home, and then two stops at unique rock formations. One with "mushroom" like outcroppings and one (the valley of the monks) with a proliferation of tall (really tall!) rounded rocks. About noon we stopped at a roadside home for a classy picnic lunch.
Batopilas
In Batopilas we walked to Mision Del Sataveo. On the way to the mision we stopped at a Tarahumara school and handed out school supplies and visited the nearby cemetery. We also visited the local museum in Batopilas and the crumbling previous property (Hacienda) of a silver mining company.
Batopilas to Creel
On the return trip to Creel we stopped again at the roadside home for lunch and went to the waterfall near Cusarare. Nice diversion, neat waterfall.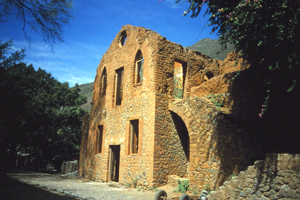 Creel to Chihuahua
After leaving Creel for Chihuahua we stopped at a Mennonite home for lunch. There's a huge Mennonite presence in Chihuahua state, they are very successful farmers and it shows in their opulent homes and ample modern farm implements. On the drive into Chihuahua we passed many fields of apple orchards. The state is the major apple growing region in Mexico. Arrived in Chihuahua around 2:30 pm, checked into the lovely Holiday Inn & Suites in Centro. Next we were given an introductory tour of the city centre–the Zocalo, cathedral and drive by Hidalgo's museum and a gorgeous early 20th century home now belonging to the University of Chihuahua (Mansion 'Quinta Gameros'). This was the end of the California Native tour except for a farewell dinner at a Centro restaurant, El Retablo.
The group left for El Paso the next day.
Ted McGrath
Vancouver Canada