The California Native International Adventures is proud to welcome the Hotel Torres del Fuerte to their line of preferred Copper Canyon hotels. The newly restored hotel is in the colonial town of El Fuerte, the gateway to Mexico's Copper Canyon.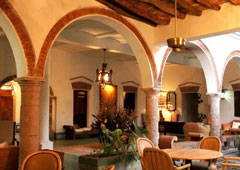 This family-owned boutique hotel has been in the Torres family for nearly 200 years. Some of the structures date back to the time of the town's original settlers 400 hundred years ago. This impressive property is conveniently located within a one-block stroll to the town's plaza.
Upon stepping through the front archway, a member of the Torres family is there to greet you and show you around the hacienda. The friendly welcome and beautiful courtyard are just the beginning of a wonderful visit. There are 25 enchanting rooms, each uniquely decorated with fine art, antiques and materials from around the world (China, Morocco and Paris to name a few). The eclectic décor of the hotel gives it the feel of a home belonging to a rich silver trader who had, over the years, brought treasures back from his world travels.
The hotel's elegant dining room offers gourmet meals and local fares including fresh caught black bass when available. The grounds are spectacular with luscious gardens and fascinating water features. A cozy cantina with an inviting patio lounge is just off the garden. The relaxed atmosphere and friendly service is a nice way to end a long day of touring.