Next Stop: Divisadero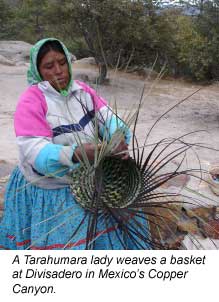 The following story was submitted to us by Kay Gilliland who describes her experience traveling with friends through Mexico's Copper Canyon during the Christmas holidays. Breathtaking is the word quite often associated with someone's first view of the Copper Canyon at the area around Divisadero. Below Kay offers us a similar response.
The California Native is always thrilled to have groups of friends join our trips to this charming region of Mexico. We appreciate it when our guests share their stories with us and we like to add them to our blog for everyone to enjoy. Excerpts from her journal will be posted regularly, so check back often to learn more about Kay's 11-day Copper Canyon Adventure.
December 26, Friday
Jenny made a fire in the neat little stove. We took pictures of the room and the rock high on the cliffs that resembled Yogi Bear.
Breakfast included eggs, cheese and mild chili sauce, all on a taco.  We watched our cook make tortillas de aveno, then packed and thanked our hosts. Sally, Laurie and I went off for a hike with Jessica while Jenny went horseback riding. The hikers crossed an open area near lava- and tuff-layered cliffs, then up the arroyo to a small dam. Laurie decided to sit on a rock by the water. Sally and I followed Jessica upstream where she showed us an arrowhead. I asked if I could keep it and she said, "Oh, no. I always place it back under this leaf and rock so I can find it again for the next group. It is not considered to be of local origin, probably obtained in trade." We continued upstream to the Cave of the Crosses. Fifty-three white crosses were painted on the black wall of the cave and there were human bones on the rocks. It is believed that the people died here of disease sometime around 1890 to 1900. There was possibly a storage area against the wall and there were several examples of the mano metate used for grinding corn. We hiked back down passing many kinds of oak and pine. Jessica pointed out the Alligator Juniper—it gets its name from the bark. I had seen a flock of little birds and a large bird like a woodpecker, but we did not see them again. We continued on to where Laurie was waiting and all four of us returned to the lodge in time to see Jenny coming in on her horse.
Jessica helped hoist our bags into the van and we all piled in for a ride to the train station. We talked with various people at the station. I rode between the cars in the open window. The canyons are very deep, 6135 feet in the case of the Urique (compare that to 6030 for the deepest part of the Grand Canyon in the United States). We passed the place where three canyons came together: Tararequa, Urique, and Copper. As before, many tunnels and bridges. The train stopped at San Rafael, a very colorful spot, where I bought my fourth basket.
Jessica explained that the pink-flowered trees were called Amapa and those trees came in yellow also. The beautiful fig type trees with yellow trunks and branches were Tescalame, one of the fig tree types. We got off at Divisidero for a van ride to the Mirador Hotel. We had a little porch outside our room with a fantastic view. Every room has a similar opportunity for its occupants to marvel at the canyon.
I saw a woman weaving a beautiful basket and wanted a picture. I bought my fifth basket so I could take a picture of her working on the basket.
The Mirador Hotel knows how to take full advantage of the reason for being on the rim of the Copper Canyon area. Jessica pointed out the place where the three canyons converge, only one of which is the Copper Canyon proper. Jenny's and I sat on our porch filling our souls with the magnificence around us.
As we entered the lodge, Felipe gave us sombreros and began to play his guitar—lots of great songs. The Hat Dance brought a few people up to dance and more joined in as other tunes were played. Dinner of chicken, mashed potatoes and carrots (standing up like sentinels in the mashed potatoes) was followed by tea and cheesecake. Another wonderful day and off to bed.