Cerocahui Christmas Morning, Urique Canyon Christmas Day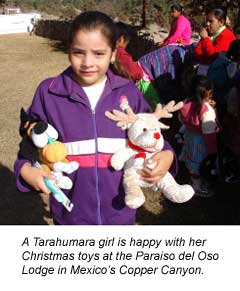 The following story was submitted to us by Kay Gililand who describes her experience traveling with friends through Mexico's Copper Canyon during the Christmas holidays. In this entry, Kay learns how Christmas cheer spreads from the lodge in  Cerocahui to the village of Urique, deep in the valley below.
The California Native is always thrilled to have groups of friends join our trips to this charming region of Mexico. We appreciate it when our guests share their stories with us and we like to add them to our blog for everyone to enjoy. Excerpts from her journal will be posted regularly, so check back often to learn more about Kay's 11-day Copper Canyon Adventure.
December 25, Thursday, Christmas Day
Jenny brought coffee from the lodge and made a fire. I wrote in my journal. The shower was nice and hot, breakfast was delicious including the bañuelos.  I turned them over and filled all the little spaces with cinnamon and sugar: delicious.  Laurie and Jenny helped stuff candy into a piñata. Children and parents began arriving and soon the piñata was swinging from a rope held by a boy on the roof. Diego started each child off and soon the piñata was broken and candy scattered out over a pile of children diving for it. Afterward Anna María handed out toys and toothbrushes and the children were delighted. The stuffed toys became prized possessions for each child and especially among the older girls.
We had a few minutes to get ready for a van ride to Urique Canyon. Along the way Diego picked up a man walking. We stopped at lookouts and then at a cave along the road. Diego Rhodes said at one time a family lived there, two parents and ten children. Now it is their shop and we bought baskets from a young girl inside the cave. It was my first basket purchase. The basket is made from the leaves of an agave plant and pine needles. We stopped at Mirador Cerro de Gallego, bought baskets, my second, and watched a family preparing and cooking goat meat. Later we visited that family in their home. From the lookout we could see our dirt road far below us with winding switchbacks clear to the bottom of the Urique Canyon.
As we approached the town we stopped to see a cemetery and then walked to Tortillerî Paulina Restaurant Plaza for a delicious lunch in an outdoor patio surrounded by flowers, other plants, and joyfully drunk people. We walked down the main street of town where trucks full of families lumbered toward an area near the Urique River. We turned back because of the dust and walked back up the main street. Young boys were driving four-wheelers up and down the street. By the time we got back toward town, people had cordoned off the central part of the street for a celebration. Diego drove back up the dirt road picking up those who were walking—a man, a family, some children—and dropping them off wherever they wanted at seemingly desolate places with no building in sight.
We stopped at the house of a Tarahumara family whom we had met at the lookout, Paula and Fabian. We saw their grain storage, the house, the fields of corn, some beans and melon, some apple trees, and the new room they had just built.
Back at the lodge, we had time to rest and write until 7:00 P. M. The five of us had a margarita together and then dinner: turkey and apple dressing. Off to bed afterwards, Jenny and I talked until late that night.