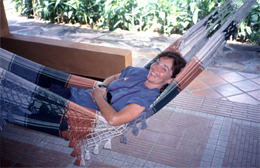 Some say the it was the ancient Greeks, some argue that it was indigenous Americans like the Mayans of the Yucatan or the Urarina of the Peruvian Amazon, and while there is some debate over the origins of the hammock and which civilization can claim the rights of ownership, no one can deny the functionality of design. Some of the earliest hammocks developed have been found in the Bahamas. These were made from bark stripped off the hamack tree–the likely origin for the name. Over the years, the bark used in construction was replaced by sisal fibers and today hammocks can be crafted from many materials such as canvas or nylon.
Sisal fiber was instrumental in the fabrication of hammocks giving weavers in the Yucatan an important role. From the mid 19th century all the way to World War I, sisal fiber was considered the major cash crop for this area. In fact, the town of Sisal is located just 53 miles north of the Yucatan's capital city of Mérida and still contains an abundance of the plants from which the fiber is produced.
The popularity of hammocks spread due to their function in the Royal Navy. Here, hammocks benefited sleeping sailors because they rocked in synchronicity with the pitch and roll of the ship. These sleeping arrangements were preferred because hammocks take up less room than traditional bunk beds and protected sailors from falling out while asleep on rough seas.
The widespread use of the hammock may have come from their utility on the ocean, but their safety benefits evolved from necessities on land. The elevated support of the hammock allowed the ancient Mayans a better alternative to lying on the wet jungle floor filled with biting insects and other vermin.
Hammock: just saying the word causes you to imagine swaying in a breeze on the beach or relaxing in the backyard on your day off. Known for their cocoon-like comfort, there is no disputing the practical design of a hammock. And over the years, artisans have honed their craft and now hammocks are made in a variety of colors and styles. In the capital city of Merida and its surrounding villages, the hammock has become a symbol of the Yucatan. Travelers to this part of Mexico can readily find hammock vendors in the central plazas of towns they visit. Adding to their unique design is the fact that Mayan Hammocks are lightweight and easy to pack, making them great souvenirs from your next trip to the Yucatan peninsula, the Peruvian Amazon, or Costa Rica with The California Native.