Jason: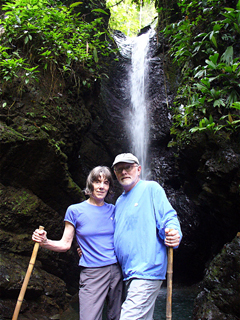 I want to thank you and California Native for arranging our recent trip to Costa Rica. The itinerary was perfect for us. We particularly liked Tortuguero, seeing the diverse range of birds and animals during our exploration by boat along the canals and the long boat trip out of the national park, when we briefly entered Nicaragua. Monteverde was wonderful too; we even saw the elusive quetzal and a green toucan in the rain forest. The white water rafting trip on the Pacaure River was terrific and we loved the overnight stay at the rustic lodge on the river. I'm so glad we did a two day trip on the Pacaure River, it was a little bit of paradise. In San Jose we attended a performance by the National Orchestra of Costa Rica at the grand old National Theatre, which was a fitting finale to our visit.
Congratulations to California Native for having such impressive local contacts. Our guides were expert and friendly.
We had a marvellous trip and thank you for your efforts in arranging it on our behalf.
Chris Grenning and Jim Dickson
New York, NY