The Tarahumara Indians of Mexico's Copper Canyon have long been acknowledged as the world's greatest long distance runners. Their reputation was recently popularized by the May 2009 publication of Christopher McDougall's book "Born to Run." Much of the book focuses on the exploits of Micah True, an American runner who spent a good deal of time running with the Tarahumara and founding the Copper Canyon ultra-marathon race in the bottom of the canyon. In March of 2012 True, known in the canyons as "Caballo Blanco," died on a solo run in New Mexico's Gila Wilderness. As a tribute to True, we asked our good friend Doug Rhodes, an American outdoor adventurer, owner of Copper Canyon's Paraiso del Oso Lodge and long-time resident of Mexico's Sierra Madre, to share some of his memories of "Caballo Blanco" with us.
The following is a collection of a remembrances, sort of the way Micah was, all jumbled up.
Riding my mule towards Batopilas many years back, I encountered a goofy looking gringo wearing running shorts about the size of my bandanna. Bare-chested and running in the hot sun, my suspicions of this guy's sanity were confirmed when he introduced himself as the "Caballo Blanco" (White Horse) and let out a whinny to prove it. Little did I realize then that guy and I would share trails, tears, and experiences and that we would become friends, indeed, more than friends.
One of my favorite recollections is when he asked to join us heading to our ranch at Los Alisos from Batopilas. We'd just finished a pack trip and had a small herd of horses to take across the mountains. Little did we realize that the lead horse would be this long-legged gringo known as Caballo Blanco. Now, our prize Appaloosa "Andy" is the Alpha or lead horse of the pack, a critter not known to take second place to anyone. Imagine our surprise when Andy fell in behind Micah, trotting down the trail with Micah in the lead, Andy right behind Micah and all the other horses trotting behind them. Micah kept looking back over his shoulder at the pack. When he zigged, the horses zigged as they did when he zagged or slowed down. It was an unbelievable sight; we nearly fell out of our saddles laughing.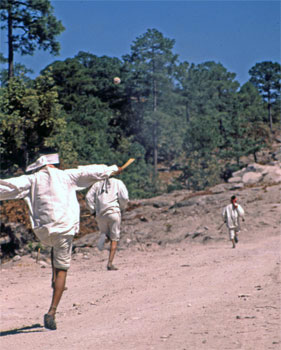 Another time Prospero Torres and I sponsored a faina to work on the trail above Los Alisos. (Note: A faina is a communal work project with food, fermented corn tesguino, and sometimes dancing after the work is finished.) Micah showed up and worked hard all day alongside the Tarahumara men. That night he ate as usual, like a horse. Then the dancing started, Micah could not quite get a hang on the traditional dancing so, as was his habit, he just did his own thing, a sort of 1920s type thing where one places their hands on their knees, brings the knees together and swaps positions of the hands over the knees. His dancing embarrassed the heck out of me but the Tarahumara laughed and loved it. Micah had a way of doing the strangest things and getting people to love him for it.
Back about 2001 or so, Micah got the wild idea of starting a marathon from Urique to Batopilas to get the Tarahumara people running again and, knowing him, just for the fun of it. Several of us helped him out as we could but most of the funding came out of Micah's pocket and set the trend for future races. Micah never had much; material things seemed not to matter to him, but he shared what he had with friends and for what he believed in and he sure believed in his race.
The May 2009 publication of the book "Born to Run" catapulted both Micah and his race to virtual legendary status.