A
s we saunter up to the door of the Paraiso del Oso Lodge, we are greeted by three dogs, a cat, and a large white goose known as "Pancho." The lodge is located in a secluded valley in Mexico's Sierra Madre mountains, surrounded by large, volcanically formed spires, one of which resembles Yogi Bear wearing his hat—hence the name Paraiso del Oso, Spanish for "Bear's Paradise."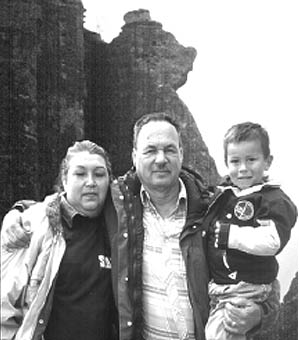 We are met by Doug Rhodes, a smiling cowboy who boldly exclaims, "I'm glad y'all made it. Welcome to the Paraiso Del Oso."
Doug (in photo with wife, Ana Maria, and their grandson, below the "Yogi Bear" rock formation) is the owner and founder of the lodge, located halfway between the town of Bahuichivo and the farming village of Cerocahui. Established in 1679, Cerocahui now has around 600 inhabitants, mostly Tarahumara Indians and mestizos.
Doug, or "Diego" as he is referred to in Mexico, was once a tour guide in Copper Canyon. As he tells it, he became so frustrated by the region's lack of reliable hotels, that he searched until he found a remote spot ideal for exploring the area's rich flora, fauna, and natural history. Here he built his lodge and ranch.
Born in a rural Ohio farming community, Doug has followed many diverse paths. He was an army sergeant, a NASA electrical technician, an editor, a deputy sheriff, a bodyguard, and now an inn keeper. His greatest passion is horses—he owns at least a dozen, and he brags that they are the best trained and equipped in Northern Mexico.
Diego is married to Ana Maria Chavez Gutierrez, a native Cerocahuian, whose family has a long and rich history in the area. Her grandfather was a famous miner who fought alongside Pancho Villa in the Mexican Revolution.
Diego and Ana contribute much to the area, furnishing outreach services to local Tarahumara families, and other community services including an annual Christmas party for local children.
At the Paraiso, guests can hike, ride horses, bike, explore historical towns, go birding, or just settle down with a good book in front of the large fireplace, sip a margarita, and relax.
Click Here for information on our Copper Canyon Tours.