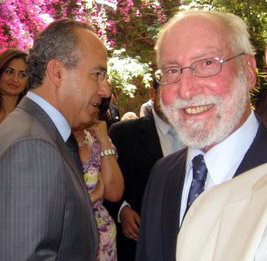 On May 21, 2010, California Native owners Lee and Ellen Klein were guests of Mexico's President Felipe Calderón at a luncheon he held in Mexico City at Los Pinos, Mexico's official presidential residence.
Guests at the luncheon were specially selected international tour operators, and members of the international press corps.
The event was the kick-off of an initiative to spur tourism in Mexico's many beautiful and fascinating "non-beach-resort" destinations.
This year marks Mexico's Bicentennial, as well as the Centennial of the Mexican Revolution. In recognition of these events, The Mexican Tourism Board has created "Rutas de Mexico,"—ten tourism routes covering the 31 States of Mexico.
We enjoyed a delicious lunch and listened to speeches from Gloria Guevara, Mexico's new tourism minister, as well as the President himself, who spoke of each of the routes. He spent quite a bit of time on the Copper Canyon Route, and talked about the town of Batopilas, which is visited on most California Native Copper Canyon tours.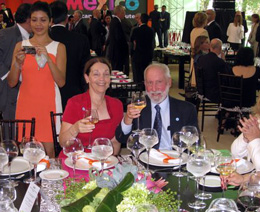 As guests of the Tourism Board and President Calderón, we spent the next four days touring on the "Revolution Route," which included many charming Colonial Cities, including Querétaro, San Miguel de Allende, Guanajuato, Zacatecas, San Luis Potosi and others.
Watch our blog for more on these cities, along with our other Mexican destinations of Copper Canyon, Chiapas and Yucatan.