Our tiny boat bounced as the giant whale broke the water's surface and rested close enough for us to touch. As she breached, the cameras clicked furiously. Our skipper pointed to more enormous whales—they were all around us!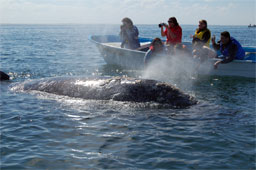 After a summer spent in the frigid waters of the Chukchi and Bering Seas, feasting on immense quantities of small crustaceans, the California Gray Whales begin their annual migration south to Mexico's Baja California. Swimming 5000 miles along the North American coast, they arrive in the warm, protected bays to breed, give birth, and rear their infants.
During the long southbound journey the whales court and mate. After a gestation period of thirteen months a female whale gives birth to her calf. Newborn Grays are about 15 feet long and can weigh up to 1500 pounds!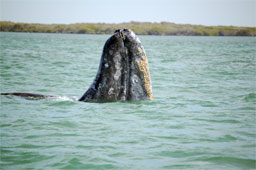 Another female, called an "auntie," often assists the mother with her calf, so the whales are often spotted in groups of three. The calf nurses on its mother's milk, ten times richer than cow's milk. By swimming against the current in the lagoon, the young whale builds up its muscles, and by Spring it is fat (around 3000 pounds), mature (at least 19 feet long), and ready for the long northward journey.
One area the whales prefer is Magdalena Bay. This narrow section of calm waters between the coast of Baja and Magdalena Island may harbor fewer gray whales than other lagoons, but here they are densely congregated, creating a wonderful place to watch them swim and play.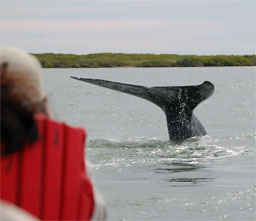 Easily accessible from La Paz and Loreto, Lopez Mateos and San Carlos are two coastal towns where pangas, small motor boats, depart for whale watching. Skimming along the water with frigate birds soaring overhead and whales breaching in every direction is an unforgettable experience.
Magdalena Bay is also home to a variety of fish and shellfish, as well as bottlenose dolphins. In the dense thickets of mangroves, which dominate Magdalena Island, many species of birds can be found. A pack of coyotes inhabits the island, and from the boat they can be seen on the beach feasting on fish which they have learned to eat as they adapt to island life.
An invigorating boat trip like this is sure to build up a whale-sized appetite. Returning to shore, the day concludes by feasting on freshly-caught local seafood at one of the nearby restaurants. Baja offers many activities and is also an excellent gateway for tours to Copper Canyon.