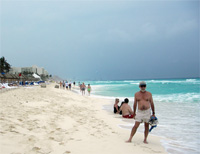 When you travel with us on our Yucatan Explorer Trips, you now have the option of beginning and ending your vacation in either city, Cancun or Merida.
With the large number of airlines flying into Cancun daily, starting your Yucatan adventure in Cancun allows you to take advantage of the competitive airfares and direct flights from the U.S. and Canada.
Cancun is renowned for its beaches, restaurants and nightlife, with all the glitter of an upscale beach resort. Merida, on the other hand, is a cosmopolitan but at the same time tranquil and charming colonial city.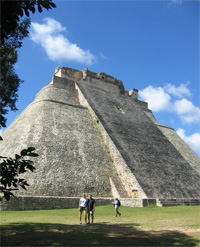 The Yucatan Peninsula is the homeland of the Mayan people, whose mighty empire lasted over a thousand years. Throughout the peninsula are the amazing archaeological ruins of their great cities. In addition, the Yucatan has lovely colonial cities and beautiful Caribbean beaches.
All of our Yucatan tours visit the Mayan ruins of Chichén Itzá, Uxmal, El Balam and Edzna, as well as the city of Campeche—its fort was built by the Spaniards as defense against the Caribbean pirates.
The tours which begin in Cancun also visit the ruins of the Mayan port city of Tulum, built alongside a beautiful Caribbean beach. and the archaeological site of Coba.
If you are looking for more an even more extensive trip, you can include Chiapas and/or Copper Canyon in your Mexico vacation.