Some people like to read about the places in the world that they are planning on visiting while other folks prefer to be armchair travelers and visit these places vicariously in the comfort of their homes. What ever is your preference here are our recommendations for good reading materials on one of our favorite destinations: Mexico's Copper Canyon.
Topping off our list is The Copper Canyon Companion. (We're probably a bit prejudiced when it comes to this book since we wrote it.)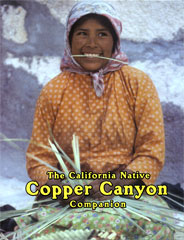 The Copper Canyon Companion was written by the California Native staff as a reference for travelers to this unique destination. In its pages you will meet the Tarahumara Indians, who have lived in the remote mountain area for centuries. California Native's guides share with you their personal memories and affection for these proud people who refused to be conquered by both the Spaniards and the modern world. The book takes you back in time and introduces you to the 17th-century conquistadors and priests who conquered and colonized the area, and the 19th-century Americans who left their mark in these rugged canyons. The book includes lots of useful information for travelers, including a sightseer's log of the Railroad. Considering a trip to Copper Canyon? The Copper Canyon Companion will travel with you and give you an in-depth look into this unique region of Mexico's Sierra Madres. Been there already? It's a great souvenir.
There's a lot of good reading about Copper Canyon and some of our other destinations. In the coming months we'll highlight more books—stay tuned!