Bound for Batopilas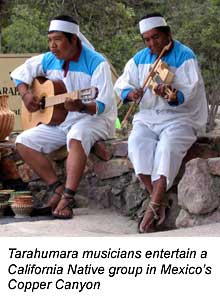 The following story was submitted to us by Kay Gilliland who describes her experience traveling with friends through Mexico's Copper Canyon during the Christmas holidays. Today, Kay and her traveling companions descend into the canyon to the village of Batopilas.
The California Native is always thrilled to have groups of friends join our trips to this charming region of Mexico. We appreciate it when our guests share their stories with us and we like to add them to our blog for everyone to enjoy. Excerpts from her journal will be posted regularly, so check back often to learn more about Kay's 11-day Copper Canyon Adventure.
December 28, Sunday
7:15 with Jenny up before me. Today we travel to the village of Batopilas to spend two nights at the bottom of the canyon. Breakfast in the lodge was a simple buffet, just right. Everything was set upon a big copper platter such as I had seen in the gift shop. After breakfast I asked the price of a copper platter and was told, $60.00 (or six-hundred persos). I appreciated that my morning breakfast plate was set upon a $60.00 platter.
Leaving Creel, with Antonio as our driver, we could see the Cristo Rey statue high above the town of Creel. We drove past a lake and Jessica pointed out some rocks that looked like elephants and a big rock shaped like a frog. Someone had scratched an eye and eyebrow to emphasize its frogness. We stopped by a bridge over the Urique River, walked across, and took pictures of the river and cliffs. Jenny climbed up to a shrine constructed like a miniature church and discovered it full of candles, plastic flowers, and assorted strange items. We walked back across the bridge where a family was selling baskets. We took two more walks, on one Jessica pointed out the jicama plant with a beautiful flower.
At Quirare, Jessica pointed out how the drop in elevation changes the vegetation from pine to oak and agave. Further on, we crossed the Batopilas River and stopped.
We saw a little school at La Bufa. Further on there was a sign saying "desponchado" meaning they would fix flat tires. We passed by Arroyo Santiago on the Batopilas River. Not far after that we saw the aqueduct which brings water to the town. Jessica explained that the aqueduct was built by Alexander Shepherd nearly a hundred years ago to provide a constant water supply for the town and to generate hydroelectric power. Batopilas still relies on the structure for its main water supply. We began seeing houses, signaling our entrance into the main part of Batopilas. The long, narrow town is along a road bordered by a river and the cliffs, leaving little room for expansion.
We arrived at Hotel Juanita's across from the Main Plaza. Jenny and I have room 103 with a view of the river. There is a large patio and a veranda. Jessica gave us a map of Batopilas. We explored the town a bit with Jessica as guide. In the Main Plaza there was a wonderful mural made by schoolchildren.
We came back and explored the hotel's second-floor balcony and rooftop lounge. We walked to the Plaza Constitutión for dinner at Doña Mica's then walked back to our hotel. In the evening, Jenny and I walked up to the roof to see the stars and the Milky Way. We were in bed early and slept well.