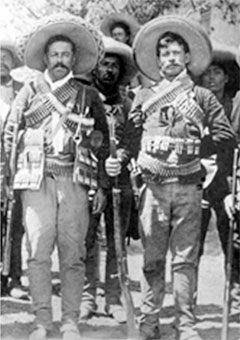 A few weeks ago we received a very interesting comment from Bessie "Crickett" Quijada regarding our article, A Visit With Mrs. Pancho Villa. I contacted her and she agreed to share some of her photos with us.
In her comment Mrs. Quijada told us "My grand mother's brother, Ricardo Gonzales, rode with The General Pancho Villa. In the Military Classics Illustrated (News Letter) there is a photo of My great uncle Ricardo on horseback along with Pancho Villa and about 5 or 6 other riders. My uncle is to Pancho Villas left. I have a photo of my uncle with Mrs Pancho Villa (Dona Luz) taken at La Quinta Manor where she lived until her death. The Villa's manor is a museum in Chihuahua, MX. In the Military Classics Illustrated along with the photo of my uncle with Pancho Villa there is an article titled, The Villistas: Soldiers in Sombreros and Suit Coats By Don Fuchik."
The author she refers to, Don Fuchik, was a very close friend of mine from the time we were 13-years old until his death a few years ago. He was also a consultant for The California Native and led many of our trips through Mexico's Copper Canyon.
| | |
| --- | --- |
| | |
| Pancho Villa and his wife, Luz Corral de Villa, in 1914. | Dona Luz Corral de Villa with Ricardo Gonzalez in 1967. |
Crickett was born in Denver, Colorado and grew up in Stockton, California. She now lives in Fresno. She describes herself as being 67 going on 12, and never wants to grow up. She has eight children, two which she adopted, and two male pet hooded rats whom she adores (she claims that rats make great pets). Her nickname is Crickett and that is what she prefers to be called.