For many people, no tour of Costa Rica would be complete without a thrilling rafting trip on one of the country's beautiful jungle rivers. Costa Rica's rivers are perfect for both beginners and experienced rafters. With ample annual rainfall, mountainous landscapes, and plenty of road-to-river access, the country prides itself on being a whitewater paradise. To top it off, Costa Rica has warm weather year round.
Your rafting adventure begins when you are met at your hotel in San Jose and driven to the outpost for a delicious breakfast. Then it's on to the river's edge where your equipment is issued and adjusted for a proper fit. There, you receive safety instructions and tips for basic paddling strokes. Safety is always at the forefront during any tours hosted by The California Native and the guides are experienced professionals with extensive knowledge of navigation, river rescue, and first aid.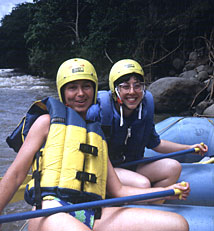 The Reventazon River is great for beginners and intermediate rafters. It is also perfect for those curious about the sport who want to experience the sensation of bobbing downstream, through magnificent rainforest, and experiencing the thrill of exciting—but not too scary—whitewater rapids.
For those who want even more adventure, the Pacuare River is your best bet. Chock full of expert-level rapids, the Pacuare is a world-famous run guaranteed to get the pulse pounding. Flowing toward the Atlantic, the 14-mile section winds through the jungle giving you plenty of opportunities to spot parrots, toucans, monkeys, and butterflies. But be sure not to take your eyes off the water for too long, because the Class I – V rapids are best viewed from inside the boat rather than out. If you do become separated from your seat, don't panic, the guide will be quick to fish you back on board.
For those who can't get enough, The California Native offers a 2-day option where guests are able to overnight on the Pacuare at a comfortable riverside lodge. There is no better way to relax from a day of paddling than to be lulled by the sounds of river while looking forward to another day of whitewater rapid transit. On the second day, more rapids with names like 'Two Mountains' and 'Cimmaron' (translated from Spanish as wild) lay downstream ready to challenge you and your crew mates. Back at the outpost, hot showers and a warm lunch await you before you are driven back to San Jose.
So grab your river-runner sandals, join The California Native on a Costa Rica Adventure, and come aboard!