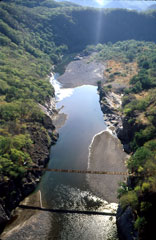 View from the Copper
Canyon train as it crosses
high above the Rio Fuerte.
Guests often ask why we run our Copper Canyon trips from west to east, beginning in El Fuerte and ending in Chihuahua, instead of the opposite direction. The answer is simple: It's the best way to enjoy the sights!
One of the highlights of touring Copper Canyon is the ride on the Chihuahua al Pacifico Railroad—the famous Copper Canyon train. One of the world's most scenic train rides, the route climbs from sea level to over 8,000 feet, passing through 86 tunnels and crossing 37 bridges along the way.
The tracks run from Los Mochis to Chihuahua City. Every morning a train is scheduled to leave from Los Mochis at 6:00 a.m. for Chihuahua, while a second train is scheduled to depart Chihuahua for the trip to Los Mochis. Notice that I say scheduled—it is not unusual for either train to lose two to four hours along the way. The two trains travel the same route in opposite directions and pass each other along the way.
The most scenic portion of the train ride is between El Fuerte and Creel. Shortly after leaving El Fuerte Station the train abandons the lowlands of Sinaloa and begins its ascent into the Sierra Madre Mountains. The vegetation changes as the elevation climbs and the views of the mountains, rivers, waterfalls and Tarahumara Indian homesteads are spectacular. At one point the train enters a tunnel, makes a U-turn in the mountain, and exits the tunnel with the canyon on the other side.
The midpoint of the trip is just west of Creel, after crossing the continental divide. After that, the train descends and the track parallels the highway, passing through industrialized farmland until it finally arrives in Chihuahua City.
One of my favorite spots to photograph the train ride is while we are crossing the Rio Fuerte Bridge, the longest bridge on the route. With the morning sun reflecting off the water, it is just gorgeous! The eastbound train crosses this bridge around ten in the morning while the westbound train arrives there approximately eight at night—dark during most times of the year. Starting trips at El Fuerte allows you to see the most scenic portions of the train ride during daylight hours.