What do blue lakes, snow-capped mountains, roaring rivers, lush forest and chocolate have in common? All are found in abundance in and near the northern Patagonian city of San Carlos de Bariloche (known commonly as Bariloche). Bariloche sits in the foothills of the Andes, on the shore of Lake Nahuel Huapi, and at the foot of Cerro Catedral (Cathedral Peak), one of the most popular ski areas in Argentina.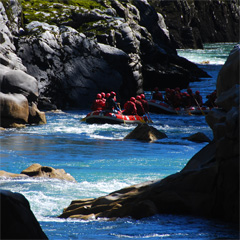 In the winter (our summer), when the snows fall, South Americans flock to the city to take advantage of the many winter sports. In the summer and fall (our winter and spring), people come to hike, raft, kayak, fish, enjoy lakeside beaches, and much more. On our recent scouting trip to Argentina, we sampled some of the abundance of activities Bariloche has to offer. We hiked beautiful mountain trails, stopping for lunch at overlooks above clear blue lakes while giant condors flew to and from their nests on adjacent peaks. We river-rafted down the scenic Rio Manso all the way to the Chilean border. And we enjoyed sumptuous meals of pasta, lamb and steak—to re-energize ourselves after all that exercise.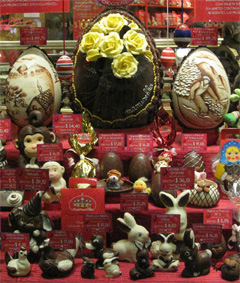 Oh, did I mention chocolate? Bariloche is famous for it's chocolate shops. Strolling from the quaint main square, with its wooden and stone alpine-look municipal buildings, down the main street, you are confronted on every block by at least two or three chocolate shops. We're not talking about little shops—we are talking about big stores with cases and cases of chocolates by the pound, café sections for sampling decadent desserts, and aisles of every size box of chocolates you can imagine. Visit just before Easter as we did, and you can see some of the most beautifully decorated confections you can imagine. The store windows are like museums of chocolate. And, ALL of it is delicious! I know! I tasted! More than once!