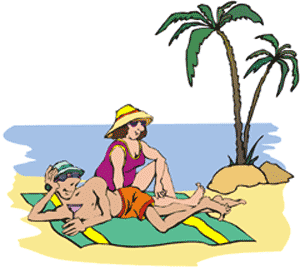 Its summer vacation time! As many of us travel this summer, we see longer lines, airline cut backs and fees, not to mention unpredictable weather. Here are a few simple tips to make your trip a wonderful adventure to remember.
Attitude is key! If you start with a good attitude, others you encounter will mirror that, and you can handle anything that happens.
Be flexible. Sometimes things happen, good or bad, changing your plans in an instant. If you are willing to just smile and "go with the flow," you will certainly have an adventure, and it may even be better than the original plan.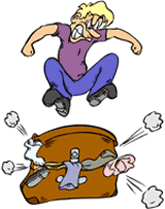 Pack light. This can't be emphasized enough. If you plan carefully, you'll have everything you need and you can carry it on the plane, avoiding luggage fees. Pack layers instead of bulky items for cold weather. Pick a color scheme and pack mix- and-match items you can wear in many combinations. Have a master packing list on your computer. Before each trip, print it out, modifying it for the length of the trip and the weather.
Pack chargers for your iPod, cell phone, camera battery, computers, etc. Also pack an extension cord. This way, if the outlets in a hotel room are limited, you can plug three things on one cord, and if you need a voltage converter or adapter, you need carry only one. Pack loose batteries in a plastic bag in your carry-on. Since January 1, 2008, lithium batteries are permitted in checked luggage only if installed in the electronic device.
Pack everything in a carry-on suitcase and a backpack, in neat layers. Stow your carry-on in the overhead bin and your backpack under the seat (ladies, put your handbag in the backpack!). Make sure any liquids or gels are 3 oz. or under, and stored in one quart-sized zip-lock bag that is easy for airport security to inspect. Also, take some twist ties. These are great for securing zippers on luggage when you are on the move and can be taken off easily at security.
If you must check luggage, make sure you have your toiletries, medications, electronics and chargers, and a change of clothes in your carry-on. Lost luggage can put a real damper on a trip. Pack an extra bag that packs flat, for those once-in-a-lifetime purchases and souvenirs. Check this bag on the way home. Many airport luggage shops sell them. Check your airline's website for any specific luggage restrictions.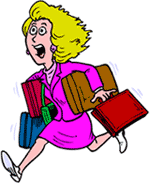 Time your airport arrival to give yourself enough time to get through security, but don't arrive so early that you spend hours sitting around. Check to see which carriers fly from the same terminal. A lot of short-haul airlines usually mean a longer security line. Check your airline's website for flight status updates which send text or voice messages to your cell phone advising you of your gate number, and changes, delays, etc. Since most U.S. domestic flights no longer provide meals, we like to get to the airport for a morning flight in time to get through security, then sit down and have a nice breakfast.
Speaking of food, if you are flying domestically in coach, bring your favorite snacks. Although airlines sell a variety of items, you'll save money and have healthier snacks you enjoy. For flights during mealtimes, buy a sandwich and drink after going through security. If you buy them in advance, be careful about liquids—salad dressing, drinks, sauces, etc. may be confiscated.
Our packing essentials for any trip: bathing suit, hand sanitizer pads, or gel (in your quart-sized plastic bag), bandana (has many uses), extension cord, head lamp (great for reading), plastic bags, twist ties, small tripod for camera, small rolls of toilet paper, and most important, a good attitude and a smile.
Summer is also a good time to book your trips for the Fall. Check out all of our exciting vacation destinations.