What is blue, white, frosty and cold? If you guessed a type of drink, try again! It is a glacier in Patagonia, and there are hundreds of them to see. The California Native scouting team was on our third trip to explore the area in March. This time we are developing a new itinerary for our adventures not only in Patagonia (Chile and Argentina) but also in other areas of the two countries.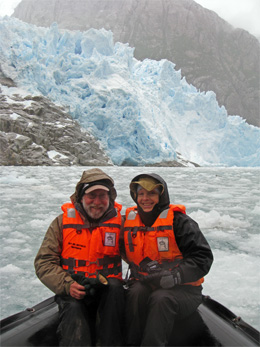 In the first of three weeks of travel in the region, we were able to set foot on Cape Horn (as far south as you can get without being in Antarctica), hiked an island in the Straits of Magellan, crunched our way up an ice field fjord in a zodiac, trekked in Torres del Paine National Park in the shadows of the snow-capped towers, visited the largest and the longest glaciers in Argentina, and even hiked up the glacier itself (crampons on!).
And, that was just our first week! There is a lot of excitement to be had in this region, and The California Native is constantly adding adventures so that you can join us in experiencing these wonders. Stay tuned for more on Patagonia and Argentina.