Colors set our mood and add an important dimension to our feelings and memories of the places we visit. I thought it might be fun to group some of the photos from our library of California Native images by their predominant colors. Our first collection was based on the color yellow.
This, our second collection is based on the color blue. Blue is the color of the sky and the ocean. It symbolizes trust, loyalty, wisdom, confidence, intelligence, faith, and truth.
"Somewhere over the rainbow, skies are blue, and the dreams that you dare to dream really do come true"—Lyman Frank Baum
"Mozart has the classic purity of light and the blue ocean"—Henri-Frédéric Amiel, 18th century Swiss philosopher
| | |
| --- | --- |
| Beautiful, blue Agua Azul falls, located 40 miles from the Mayan ruins of Palenque, in the Mexican state of Chiapas, tumble down from the jungle in a series of cascades where they have carved out delighful limestone swimming holes. | |
| | |
| --- | --- |
| Photographed from an aircraft, the dark blue hues of Mount Popocatépetl, located in central Mexico, are highlighted by the blue sky just before sunset. Popocatépetl, which can be seen from Mexico City is a very active volcano, whose last eruption was just last year (May, 2013). | |
| | |
| --- | --- |
| Wearing blue aprons and caps, Chinese ladies go home from work in Yunnan Province. | |
| Falls cascade down into the refreshing lagoon in Venezuela's Canaima National Park. | |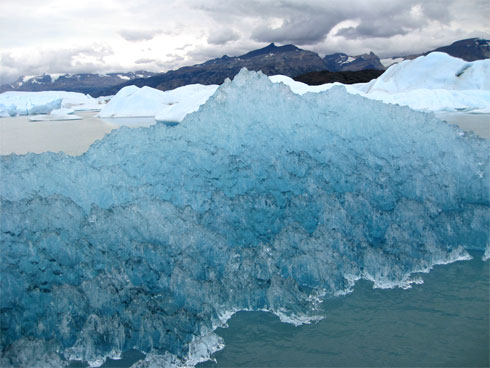 The blue of this Patagonian glacier looks almost unreal as it glistens in the sunlight near the bottom of the world.