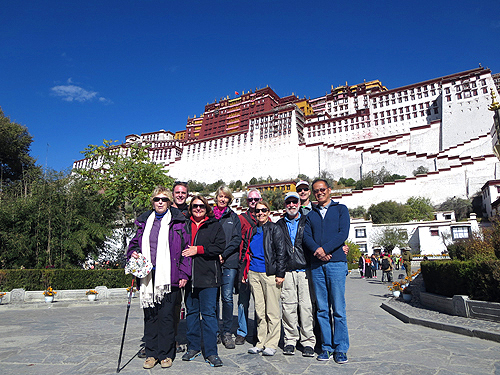 The Potala Palace in Lhasa, Tibet, was the chief residence of the Dalai Lama until the 14th Dalai Lama fled to India during the 1959 Tibetan uprising. It is now a museum and World Heritage Site. This amazing palace has the honor of being the highest ancient palace in the world, with its highest point 12,300 feet above sea level, towering 300 feet above the city of Lhasa. This 13-stories-high palace has over 1,000 rooms, 10,000 shrines and contains about 200,000 statues. The stone walls measure 10 feet thick on average.
The palace is named after Mount Potalaka. The 5th Dalai Lama started its construction in 1645 after one of his spiritual advisers, Konchog Chophel, pointed out that the site was ideal as a seat of government, situated as it is between two monasteries and the old city of Lhasa.
The Palace contains two sections, the White Palace and the Red Palace. The first White Palace was built during the lifetime of the Fifth Dalai Lama and he and his government moved into it in 1649. It was extended to its present size by the thirteenth Dalai Lama in the early 20th century. The palace contained the living quarters, offices, seminary and printing house. A central, yellow-painted courtyard known as a Deyangshar separates the living quarters from the Red Palace, which is the part of the Potala palace that is completely devoted to religious study and Buddhist prayer.
The California Native has been leading tours to exotic destinations for more than 30 years and people are always asking what our favorites are. One of our favorite trips is this wonderful journey which begins in Beijing, China, travels through Tibet and hits its high point at Mount Everest Base Camp at the top of the world. California Native's own Lee & Ellen Klein recently revisited this adventure which visits The Potala Palace.