There is nothing like standing at a safe distance while watching glowing-hot boulders being pitched into the night sky.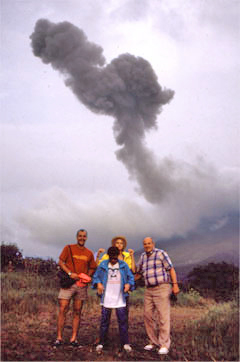 The Arenal Volcano, situated near the town of La Fortuna, rises nearly 4,200 feet above the surrounding landscape, making it visible from almost anywhere. Arenal is the youngest and most active of all of Costa Rica's volcanoes. Major eruptions occured in 1968 and 2000, but smaller eruptions happen more frequently–and on some days as frequent as every 15 to 20 minutes. Belting out its thunderous boom, the Arenal is a highlight for visitors touring the country.Costa Rica, located at the center of the America's along the Pacific Ring of Fire, has five active volcanoes.
The Poas Volcano, located near the crafts-town of Sarchi, rises 8,884 feet above sea-level and is home to an impressive array of flora and fauna. The main crater is 950 feet deep and quite active with steaming geysers and frequent lava eruptions. At Poas, the last significant eruptions occured during the time between 1952 to 1954.
The California Native offers tours of Costa Rica which visit both of these living reminders of the raging powers beneath our feet.